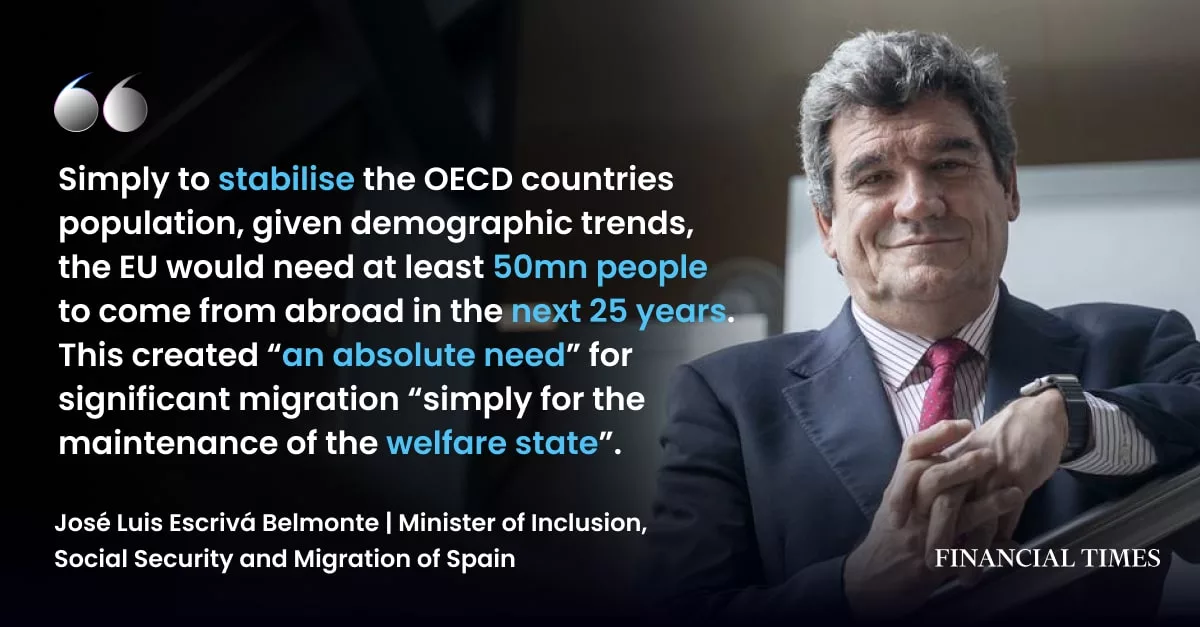 Migration to rich countries at all time high
International migration to rich countries reached an all-time high last year, driven by global humanitarian crises and demand for workers, the OECD said on Monday.
The Paris-based organisation estimated 6.1mn new permanent migrants moved to its 38 member countries last year, 26% more than in 2021 and 14% higher than in 2019, before the pandemic brought an enforced pause to much cross-border movement.
Preliminary figures for 2023 suggested a further increase, the OECD said, indicating that last year's surge was not solely a post-Covid rebound.
This total did not include a further 4.7mn displaced Ukrainians who were living in OECD countries as of June this year; an increase in temporary migration for work; or a record 1.9mn permits issued to international students — with the greatest number of new students going to the UK.
Both humanitarian and labour-related flows of people look set to continue at high levels, with the latter accounting for a growing share of total migration, driven by a widespread scarcity of workers, the OECD said.
"Most OECD countries are experiencing #labour shortages," José Luis Escrivá, the Spanish minister responsible for migration, said at the launch of the OECD's report. "The situation can only get worse in future."
Simply to stabilise its population, given demographic trends, the EU would need at least 50mn people to come from abroad in the next 25 years, Escrivá said, adding that this created "an absolute need" for significant migration "simply for the maintenance of the welfare state".
Humanitarian migration to Germany and the US — the top two countries for granting asylum — nearly doubled in 2022, with the largest numbers of applications coming from Venezuela, Cuba, Afghanistan and Nicaragua.
Labour migration through routes that could lead to permanent settlement reached a 15-year high in many countries, the OECD said, including a doubling in the UK. There was a rise of 59 per cent in Germany, 39 per cent in the US and 26 per cent in France. Inflows to New Zealand, meanwhile, were triple the previous record, owing to a one-off policy allowing temporary residence to labour-seeking migrants.
This offset the slower post-pandemic recovery in flows of workers within the EU's free movement area, and between Australia and New Zealand, and meant labour-related migration now accounted for more than a fifth of cross-border movement, the OECD said.
The migrant employment rate reached its highest on record, with more than 70% in work and fewer than 8% unemployed — in many countries, beating the employment rate of domestic worers.
https://www.ft.com/content/e1cabc36-d050-4674-a16c-fff60c548174?accessToken=zwAGCGh4LrG4kdPhyrw20FBGdNOhbP_2DFSBdA.MEYCIQCUYC025XVgdBGN_EHcqe6uasK-hOm-nfLknFhDQxR0nQIhAMwtMX3bScGJRx5Fc6tXz_RKmUymTAxBhcI05mIeGr3Q&sharetype=gift&token=d137e5a8-5904-40c6-b8f4-6deece95f4b3