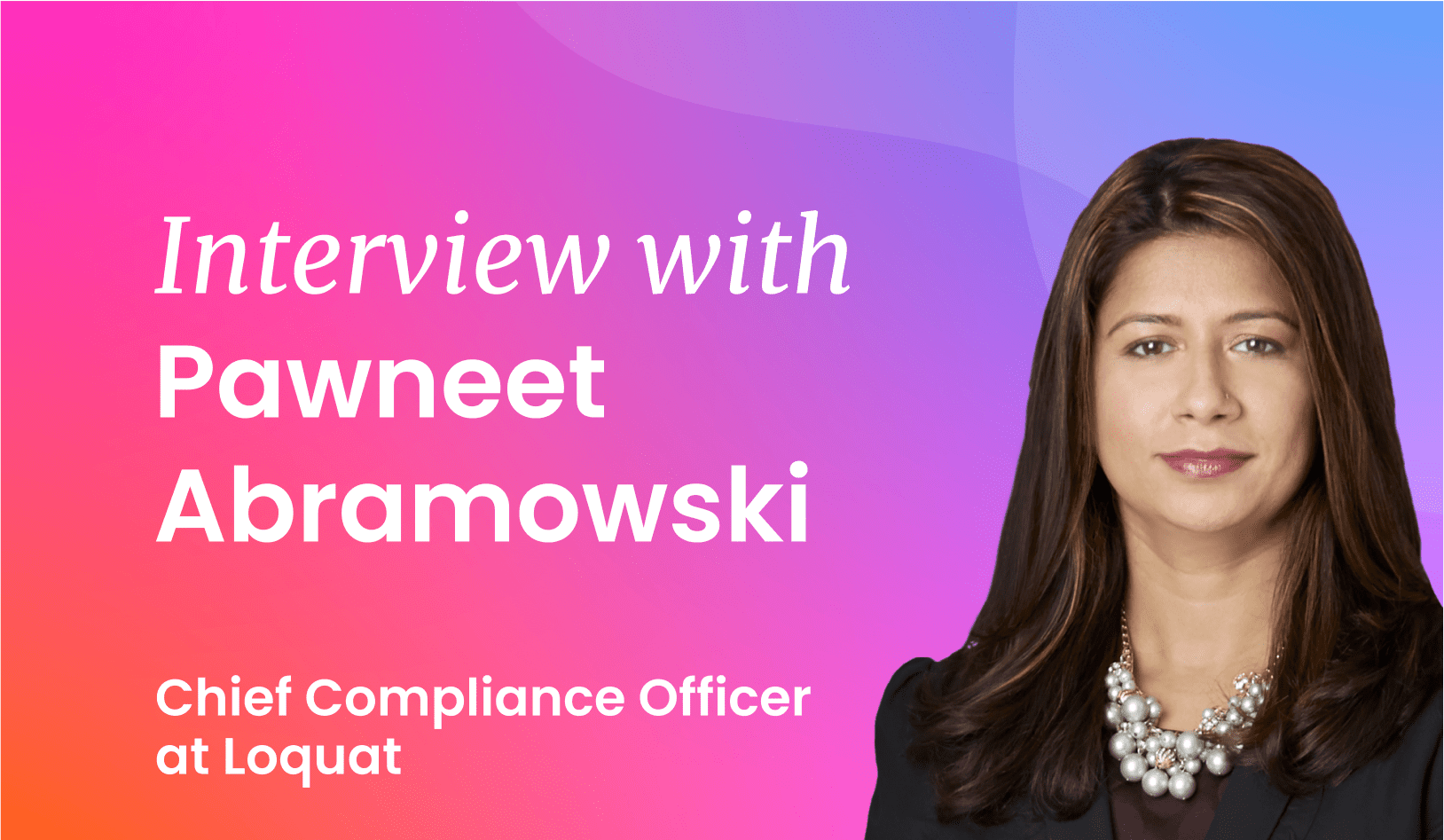 Loquat Executive Interview Series with Chief Compliance Officer Pawneet Abramowski.
Welcome to the first installment of the Loquat Executive Interview Series where we will dive deep into topics related to the state of Fintech, digital transformation in banking, Banking-as-a-Service, Security, Fraud, AML, and compliance in banking. This interview series aims to share value with our clients and investors by showcasing the knowledge, perspectives, and thought leadership of the Loquat executive team.
---
Question: Pawneet, please share your background with us and tell us what you do at Loquat.
---
I started my career as an investigator in law enforcement working with various agencies all the way from local to federal level.  I worked in the intelligence community on national and international terrorism investigations. This experience exposed me to financial crimes because I was involved in multiple investigations of this type which parlayed into the private sector.
Then over time, I moved into the private sector as a Compliance Officer in investment banking on Wall Street. Because of my background in law enforcement, I was a natural fit for compliance and ended up working in this field for the last 15-20 years. My focus has been on financial crimes such as anti-money laundering, fraud, risk, security sanctions etc., primarily in banking with a focus on technology transformation to innovate the financial and payments sector working with cutting edge products such as Loquat.
When Zarina, the founder and CEO of Loquat approached me about the BaaS technology platform she was building to solve the problems small to mid-size banks experience, I quickly realized how innovative and disruptive it was going to be in this space, especially from a security and compliance perspective.
I joined the team as Chief Compliance Officer to help ensure that the Loquat platform is secure and compliant with regulatory frameworks and requirements.
This makes it possible for us to support the financial institutions who we want to partner with and provide them with cutting-edge solutions that solve their most pressing problems, security being a top concern.
---
Question: When it comes to the current state of the industry in regards to security, risk fraud, anti-money laundering in banking, what are some of the major issues and challenges that you are seeing?
---
The industry is certainly plagued with a lot of concerns. Now that we are moving into digital-friendly solutions and offerings, all of these financial institutions, whether it's large banks or small credit unions are focused on digital transformation, and with that comes risk.
You're putting a lot of information out there about yourself, your business, personal preferences etc. Back in the day we kept our personal or private information in a closed file in a filing cabinet and there was a confidence level that it was going to stay under lock and key.
Now that everything is digital, it comes with risk. We've seen an increase in data breaches over the last decade; whether it's state-sponsored, foreign governments, or hackers, it's hitting many different sectors. However, the financial sector is very much ripe for this type of exploitation and easy target. The industry is trying to address that but also be compliant from a regulatory perspective. Countries and regulators continue to work on creating a new framework to ensure people have privacy.
In Europe, we have the GDPR requirements where you have some say in how your information is used, whereas in the United States, we do have some privacy regulations state by state, but it differs, which makes it harder to comply with different regulations for 50 states. But there is certainly a focus on ensuring there is privacy and security of information there. But how do institutions handle that?
When they are choosing their technology partners, such as Loquat, what can they do to address the privacy and security concerns? What are the authentications and verification steps? Where are the controls? What can you do to mitigate risk?
Just like you can't stop every robbery or burglary in real life, it's the same in the digital ecosystem. You can't stop everything but what you can do is put the appropriate controls and preventative measures in place when you work with a team and a product that prioritizes it.
---
Question: What do you think needs to be done on a small or large scale to minimize risk and prevent fraud
---
On a small scale or even a large scale, financial institutions must recognize that they need to have a digital element in their product offerings, whether its account opening, loan offering, or products and services built for speed and efficiency designed for the customer experience. Because they are competing with apps and other fintech products that allow you to send money to your friends and more. Financial institutions such as credit unions and regional and community banks need to solve manual problems while keeping security, authentication, and verification a priority. This is possible with a banking as a service platform like Loquat.
Smaller institutions have a challenge where they're trying to not only stay connected to the community because that's where their focus is, but they also are trying to reach a wider audience. And having digital access allows you to have a wider footprint, not only as an institution, but you can also expand your profits in order to compete with the bigger banks.
Financial institutions need to understand that this isn't just an investment into a standalone product per se, this technology is customizable, it's versatile. It will grow and evolve and adapt to their business. So, this is a tremendous investment for the future.
---
Question: Why do you think Loquat is the best solution for credit unions and other small/local FI's to reduce risk, fraud and AML?
---
Throughout the last several years, I observed a lot of Fintech vendors similar to Loquat. Many of them came up with innovative solutions, so I saw across the board what the differences were in these platforms and what they brought to the table, and where they missed the mark.
When I got engaged with the Loquat team, I was impressed with their focus on making sure that security and compliance were a top priority. Not only as someone sitting on the back end but as a potential user.
I feel our world-class team makes up our biggest key differentiator because we have firsthand knowledge and understanding of security features' importance. As a result, we've partnered with the best vendors. Our tools and integrations are some of the best in the industry. We went into this knowing that whatever vendors and features we incorporate are according to what we want to see as an end user to feel safe and in compliance with regulatory frameworks. We are excited to deliver a best-in-class solution to the smaller financial institutions that got left behind in digital transformation and help them connect more efficiently with their SMB customers.
You can learn more about Pawneet Abramowski by connecting with her on LinkedIn and you can learn more about our Executive Leadership team here.